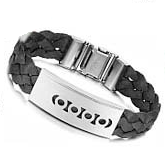 + CLICK IMAGE TO ZOOM
Boys Leather Bracelet -Circles on Braided Band

This collection of bracelets has been selected specifically for boys of ALL ages. The stainless steel plates on the front add a cool touch to this beautiful piece. These are a great value for a great quality gift!
Bracelet length is adjustable to fit any wrist size needed!
Bracelet material is a woven nylon which makes it very durable and strong.